MEMS enabled products are at the center of the Internet of Things revolution. The availability of large numbers of reliable and cost-effective MEMS sensors and actuators has enabled an explosion in the number of IoT applications to reach the market. The Internet of Things is pushing MEMs technology to new levels of performance and bringing forth new requirements.
This event aims to showcase advances in core technologies that form the foundation of the creation of MEMS-based products. Experts from the field will present the latest innovations in MEMS fabrication processes, packaging, assembly, and test. Insight will be provided as to new technologies, materials and software that will fuel the creation of new devices coupled with traditional MEMS technologies to address new markets and new requirements for the Internet of Things. We explore how the four foundations of MEMS technologies are expanding to include such exciting new techniques as 3D printing, flexible electronics and novel materials.
We hope you will join us to learn from experts about practical commercial significant technology advances in MEMS Test, Design, Process and Packaging, each driving key MEMS enabled products. Come hear about the technologies that form the "Sensory System" at the heart of the Internet of Things – it's not just about the network!
This year we are partnering on a new event, the First Annual "Internet of Things Technology Symposium: Analytics. Applications. Hardware. Software." being held on Thursday, May 21st. Discounts are available for attending or exhibiting at both events.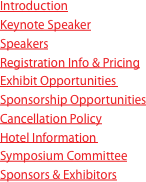 Pricing for general admission is $495 for MEPTEC members and $595 for non-members and includes attendance, continental breakfast, refreshment breaks, lunch, and printed and online proceedings. A credit card is needed to hold the reservation.
Pre-registration is strongly recommended. There will be no guarantee of space or materials for on-site registrants.
Final registration confirmation, including maps and directions, will be sent before May 18th.
Sponsoring this event will provide a valuable opportunity to promote your company brand and product/service message to attendees, while supporting your business development and positioning goals. For pricing and benefits click on the link below.
The cost to exhibit is $695.00 for MEPTEC members and $795.00 for non-members and includes:
• One admission to the conference
• 6' table, draped
• 2 chairs
• 11"x17" custom table top sign with your logo and company description
• Logo, link to your URL and company description on special Exhibitor • page
• Company description in the symposium proceedings
• Printed and electronics versions of the symposium proceedings
• Marketing exposure through e-mail campaign
Refunds for advance payment, less a $50 processing fee, will be given in full provided cancellation by phone or e-mail is received 10 business days before the event (Wednesday, May 6). If you do not cancel by May 6 or are a no-show, the credit card provided to hold the reservation will be charged for the full amount.
A block of rooms has been reserved at the San Jose Holiday Inn (formerly the Wyndham Hotel) for a rate of $169.00. The hotel is conveniently located at 1350 North First Street, San Jose, CA in close proximity to the San Jose Airport. Call 408-453-6200 to reserve your room; be sure to mention MEPTEC in order to secure the special rate.
• Gene Burk, IMT
• Sean Cahill, BridgeWave Communications
• MaryAnn Maher, SoftMEMS
• Ramesh Ramadoss, Microprobe