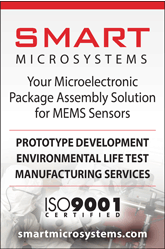 If you are involved in the MEMS and sensors industry today, or are thinking about entering it, you are in the right place at the right time. Double digit growth fueled by inertial and other sensors in smartphones, wearables, and a plethora of IOT applications have garnered the attention of many who not only see the financial rewards but also the possibilities of new and exciting markets.
With this renewed growth comes a desire to reduce costs, decrease throughput times, scale to much larger volumes faster and continually innovate with existing MEMS and sensors while preparing for the untapped broader markets. Linear technical innovations in design, processes, materials, packaging and test are enabling widespread commercialization of breakthrough MEMS products. While this is absolutely necessary to meet today's demands, will it be sufficient for the future five to ten years from now? If we believe the analysts and commercial companies predicating tens of billions of connected nodes and sensor arrays by 2020, can our industry keep up by sticking to the path we are on?
MEMS sensing applications will track growth in CE, mobile, wearable's, medical, food and agriculture, environmental, energy and the catch all IOT/IOE markets. The 14th Annual MEPTEC MEMS Technology Symposium will focus on the fundamental MEMS technologies and manufacturing techniques to address this explosive growth short to medium term but also take a peek at what's coming longer term that we all need to be aware of today.
Topics to include:
MEMS Design – reusability, systems design, design for reliability, security, managing complexity
Process Technologies – cost effective processes, process integration, process re-use/standardization
Packaging – multi-die packaging, special purpose packaging – chem sensors, package standardization
Test – design for MEMS testing, high volume automated test, multi-die testing
Emerging Technologies – flexible, hybrid and printed MEMS and sensors
If you are involved in MEMS and sensors design, processes, packaging, test and system integration you will not want to miss this one-day action packed and informative event.

Pricing for general admission is $520 for MEPTEC members and $620 for non-members and includes attendance, continental breakfast, refreshment breaks, lunch, and printed and online proceedings. A credit card is needed to hold the reservation.
Pre-registration is strongly recommended. There will be no guarantee of space or materials for on-site registrants.
Final confirmation including maps and directions will be sent before May 6.
The cost to exhibit is $695.00 for MEPTEC members and $795.00 for non-members and includes:
• One admission to the conference
• 6' table, draped
• 2 chairs
• 11"x17" custom table top sign with your logo and company • description
• Logo, link to your URL and company description on special
• Exhibitor page
• Company description in the symposium proceedings
• Printed and electronics versions of the symposium proceedings
• Marketing exposure through e-mail campaign
Sponsoring this event will provide a valuable opportunity to promote your company brand and product/service message to attendees, while supporting your business development and positioning goals. For pricing and benefits click on the link below.
Symposium Attendance
Refunds for advance payment, less a $50 processing fee, will be given in full provided cancellation by phone or e-mail is received 10 business days (April 27) before the event.
Exhibits
Refunds for advance payment, less a $100 processing fee, will be given in full provided cancellation by phone or e-mail is received 14 business days (April 21)before the event.
Sponsorships
No refunds once application has been submitted and fee paid.
A block of rooms has been reserved at the San Jose Holiday Inn (formerly the Wyndham Hotel) for a rate of $199.00. The hotel is conveniently located at 1350 North First Street, San Jose, CA in close proximity to the San Jose Airport. The hotel provides complimentary shuttle to and from the Mineta San Jose International Airport. Overnight guestroom parking is $13.00 per night and daytime parking is $5.00 per day. To reserve your room:
• Online: Click here for the hotel home page. Enter your dates and
• enter MEP in the Group Code box. It will take you to a page with
• the rate built in.
• Call 408-453-6200; be sure to mention MEPTEC in order to secure • the special rate.

• Matt Apanius, SMART Microsystems LTD
• Sean Cahill, Maxim Integrated Products
• MaryAnn Maher, SoftMEMS
• Bettina Weiss, SEMI
• Steve Whalley, MEMS Industry Group